DIVING INTO THE MYSTERY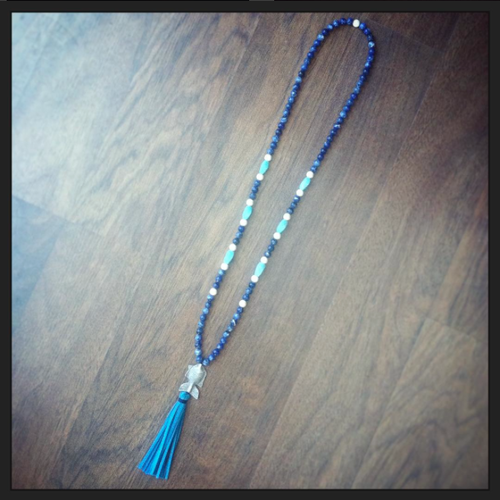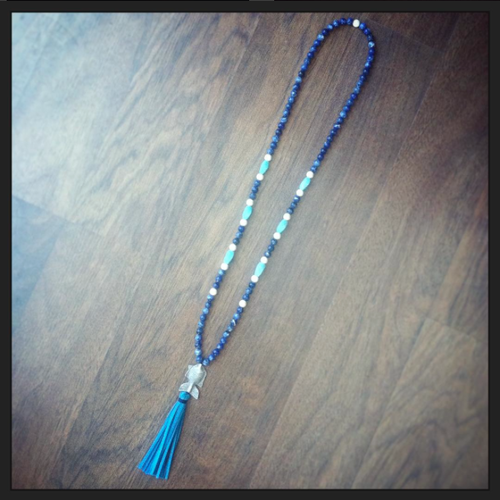 sold out
DIVING INTO THE MYSTERY
This piece holds beautiful Sodalite for intuitive guidance and enhanced insights. It is a great tool for inner journeying. It helps illuminate the subconscious and unconscious, and aids integration of ones insights and lessons learned into the now. It helps one detach from worries and concerns, reduce stress and aids one to see one's 'reality' from a higher and more serene perspective.
This piece also holds Magnesite (blue and white), to tune into higher frequencies and awareness, balance emotions and raise one's consciousness.
The Silver (in the shape of a fish), as it's guru bead, also acts as a doorway to the subconscious and unconscious, and aids the process of observing the mystery by turning inward. It holds Lunar energy, feminine energy. Silver serves as a mirror to the yet unknown, and is a cooling and calming metal. Just like the Sodalite, Silver aids in the exploration of emotions and intuition, as a tool to see the hidden Truth, and it infuses empathy. On a physical level, it boosts immunity and helps regulate hormones, as well as it holds anti-bacterial and anti-viral properties. Made with Love!
* This piece has room to move the beads for Japa.
* From top of the neck to the guru bead, this piece is 17 inches. With tassel it is 22 inches.
Please contact us for more details on this piece and for special orders. Blessings...